Are you tired of your drab, generic bathroom? If you're thinking of renovating this key part of your home, it may help to add a global flair to make it truly unique.
Today, we'll be showing you a few international bathroom designs and talk about how you can DIY some of their aspects. This will give your bathroom a whole new look without breaking the bank.
Exotic Flair, Morocco
Moroccan design was inspired by the Moorish that once lived in the Iberian Peninsula, Sicily, and Malta during the Middle Ages. The Moroccan style is known for its eclectic exoticism thanks to its bright colors, intricate patterns, and bold themes. These all come together and make up what is now quickly becoming one of the world's premier design trends. The aspect often adapted from the style is the stunning Moroccan-blue tiles. They are usually paired with an earthy palette that accents the interiors of the bathroom through the use of tiles and rugs.
If you're not ready to fully commit a Moroccan style, you can give your bathroom a hint of the design by installing Zellige tiles. These are chiseled geometric tiles set into plaster and are often found in traditional structures in Morocco. They are placed on walls, ceilings, fountains, pools, floors, and tables. Unlike common tiles, there is a specific way to install these to keep them in the perfect condition.
You have to install the tiles on a level and dry surface, as tacking them directly onto soil will lead to deposits forming on the tile's surface. Next, you have to apply adhesive on the surface as well as the backside of the tile. Position the tiles gently into place, leaving a 1-millimeter gap for the filler. For these tiles, never use a dyed cement filler, as the dye may stain the intricate design on the tile. If the dye does happen to get on the tile, refrain from using acid to remove it, as it will damage the entire tile.
Royal Victorian, The United Kingdom
While the minimalist style has dominated design trends in the last few years, maximalism is making its way back. What better way to welcome this trend than through the timeless opulence of a Victorian-era bathroom? The style originated in the United Kingdom, specifically during the Industrial Revolution. New technology allowed the common citizen to own highly ornate furniture. Marble and bronze accents are featured in this style, giving the bathroom an elegant look. Pedestal sinks atop porcelain or a metal base are a must-have, but marble and bronze sinks are common as well. However, what makes the Victorian-style bathroom glamorous is the iconic claw-footed tub that functions as the centerpiece.
Claw-footed tubs are rather expensive, so you may want to get one secondhand and restore it yourself. You can do this by scrubbing the tub's surface with equal parts water and vinegar to get rid of the surface grime. Make sure to use a scouring pad to get rid of all the superficial blemishes. The next thing you have to do is to apply a cleaning agent – ones with oxalic acid would be best, as they'll be able to get rid of the stains that are harder to remove. Just apply the solution to a damp surface and let it sit for around 30 minutes. Scrub the tub with a piece of fine grade steel wool until the interior looks presentable.
When installing the bathtub, don't forget to take into account other important elements in the bathroom. For instance, you wouldn't want to ignore the necessary plumbing work that comes with a major renovation. It's crucial with vintage pieces like the claw-footed tub, as its parts may be a lot harder to come by if they break down. This is why UK plumbing experts HomeServe suggest getting insured, as this will protect you from unexpected costs that come from damaging your pipes. In fact, burst pipes may even lead to damaging your entire bathroom, which would lead to more work and more expenses down the line. So keep this in mind before you attempt any of the other DIY projects in this article.
Sleek Minimalist, Japan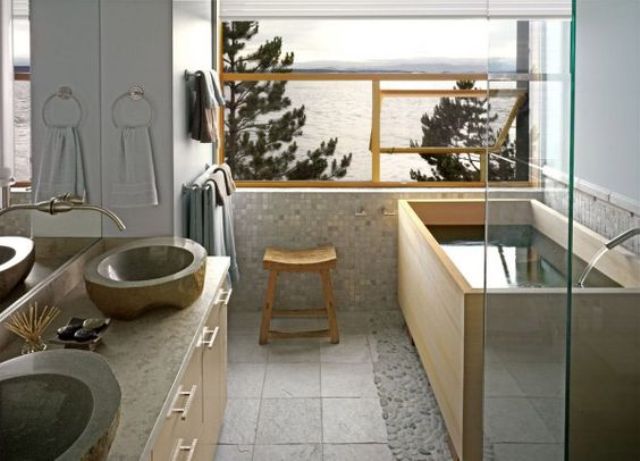 If you're looking for something a little more subtle, a Japanese style may be right for you. Japan's design principles are all about being at one with nature as a means to achieve a state of rejuvenation and relaxation. An article on Medium defines a core principle of this philosophy, known as Shizen. It means naturalness or the lack of artificiality. This goes hand in hand with Shibui, which means elegant but simple, or what is commonly referred to as minimalist.
This style incorporates a lot of wood into the design, with wooden panel floors and fixtures being the most evident features. This, along with its earthy color palette contributes to the style's overall soothing effect on people.
Since the central piece in this style is wood, why not add a DIY twist to it by creating weathered barn wood shelves to line the walls of your Japanese-inspired bathroom. We have a tutorial on a way to replicate this weathered barn wood effect through the use of an oxidizing solution made up of distilled white vinegar. What you'll need to do is to put some steel wool in a jar filled with vinegar and let it sit there for a minimum of 48 hours. Then, apply the oxidizing solution on the wood using a brush and let the wood dry. Finally, you'll need to apply a mixture of 50% light gray paint and 50% water onto the wood. This will have to be washed off immediately to get the color just right.
(Visited 210 times, 1 visits today)